NBI goes Citizen Science
Involving young and old citizen scientists in monitoring habitat use of the critically endangered Northern Bald Ibis (Geronticus eremita)
Project Details
Principal Investigator Dr. Didone Frigerio
Funding BMBWF – Federal Ministry of Education, Science and Research
Programme Top Citizen Science, 2nd Call (2017)
Project Duration 01.09.2017 - 31.08.2019
Project Number TCS-02/06
Research Objective
The aim of the project is to investigate the ecological aspects of the habitat selection of the Northern bald ibis, one of the most endangered avian species in the world, by involving interested citizens in research.
Research Question
Which characteristics do the foraging grounds of the Northern bald ibis show?
Methods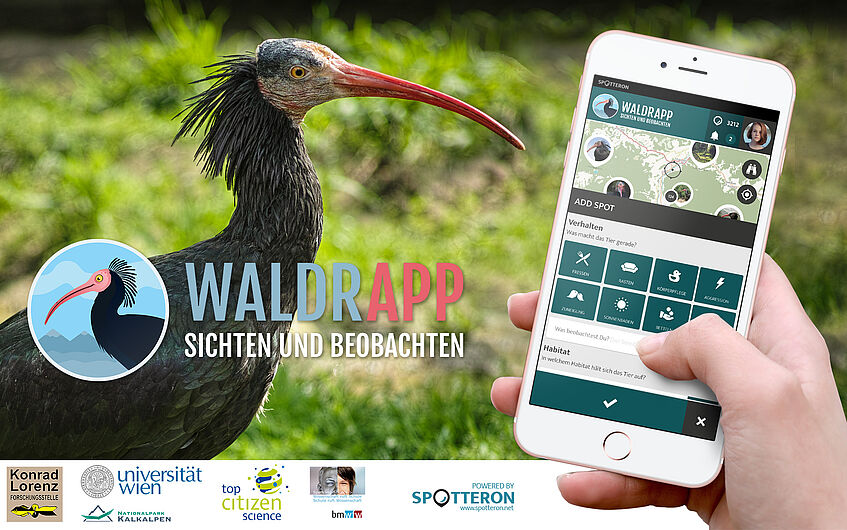 Methods
Within the main project "Quo volis Geronticus eremita - Social cohesion and excursion area of the Northern Bald Ibises" some individuals of our colony have been equipped with GPS/GSM transmitters. In order to survey the whereabouts of the birds without GPS loggers, we are dependent on the help of volunteers and interested helpers. In order to enable a broad participation, an app has been developed. By mean of this app, interested citizens can collect information about the whereabouts of the NBI and the ecological characteristics of the visited areas. The contributions of all citizen scientists will flow into large datasets contributing to the scientific results of the project and will be disseminated in form of conference contributions and peer reviewed papers.
JOIN OUR RESEARCH!
You can participate in the project as follows:
Download the manual for the app here.
For more information about the app, please visit birdscience.net.
What happens to my data?
Your entries in the "WaldrApp" are displayed in the interactive map and can therefore be viewed by everyone. The raw data can only be viewed by persons with administrator rights and are stored on the servers of the Citizen Science SPOTTERON platform. The data is only passed on to third parties anonymously (without any user information) and only for scientific purposes. The project does not pursue any commercial goals. Personal data will be kept strictly confidential and will not be passed on to third parties. Full rights of use are granted to the project for the photos of the entries. When using a photo within the scope of the project activity, we always indicate the author (username or display name).
External Project Homepages
Team
Dott.Dr. Didone FRIGERIO Project leader and management
---
Mag. Gudrun GEGENDORFER Public relations
Verena PÜHRINGER-STURMAYR, MSc Data evaluation and publication
Christiane STEINBACHER, MSc Supervision of the app WaldrApp, communication with the participants